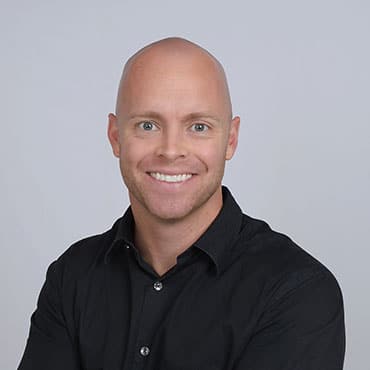 Board-Certified Specialist in Orthodontics
Before you read further, you may be  saying to yourself, "What an odd name — Barefoot." Well, Dr. Brooks Barefoot hears that a lot, but his patients admit it is quite an easy name to remember. His last name is actually English,  and NO–he does not treat patients without shoes on!
Dr.  Barefoot grew up in Overland Park, Kansas. From his childhood, he always had a focus on sports. From baseball at an early age to basketball in high school to golf in college, he has always had a commitment to learning and refining his athletic skills. Aside from his athletic focus at the University of Central Missouri, he graduated with a 4.0 G.P.A. and an undergraduate degree in Business Administration.  He received his degree in Dentistry from the University of Missouri-Kansas City with top honors and completed his Specialist Certificate in Orthodontics and Dentofacial Orthopedics as the Chief Resident from the Washington Hospital Center in Washington, D.C.
He is one of three Board-certified orthodontists practicing in Lone Tree, and one of only three who are Board-certified in Greenwood Village. One of those is, of course, his business partner, Dr. Theroux, who has been Board-certified since 2006. There is a true advantage to having two Board-certified orthodontists in one office.  Only 19% of all orthodontists practicing in Douglas and Arapahoe Counties are Board-certified.
With his advanced training in Invisalign®, labial and lingual braces, surgical and non-surgical approaches, he has developed the skills to treat a wide variety of patients. He is a member of the American Dental Association and American Association of Orthodontics.  In 2014 and 2015, the dentists of Colorado have selected Dr. Barefoot as a "Top Orthodontist" as featured in 5280 Magazine.  Dr. Barefoot has lectured on the local, national, and international level on orthodontics.
Another important component of Dr. Barefoot's life is his commitment to giving back to the community. He has been a long-time participant in Big Brothers/Big Sisters and has worked routinely with inner-city youth.  He is also excited to participate in Total Orthodontics' own program,  The TOgether Project. Last year, he joined over 1,000 people in Maryland who took the Polar Bear Plunge into the Atlantic Ocean during the winter to raise money for the Special Olympics. He has also served on several medical and dental teams that travel to Third World countries to provide medical care to the underprivileged.
Though you will typically see him working in the clinic, you may also catch him hiking or biking a mountain trail, skiing down the slopes, lifting weights in the gym, or playing a new song on his guitar. He is married to Dr. Ashley Barefoot, and together they have four beautiful children, Emerson, Adalyn, Levi, and Lawson.
Dr. Barefoot is a great asset to Total Orthodontics.  He brings a fun, youthful vibe to the practice, and he is a wonderful part of our team!