Our end-of-summer contest is up and running! Show us your old, beat-up, worn-out shoes and you could win $150 to custom-design your own pair of fresh Nike sneakers!
From August 5th through September 20th, wear your old shoes (that still fit) to our office for your appointment. We will take pictures of everyone's oldest and roughest-looking kicks and narrow it down to the top contenders.
On September 23rd, we will post the contenders on our Contests page and hold two weeks of voting to choose a winner. Your votes will determine the winner of $150 to design their own Nike shoes!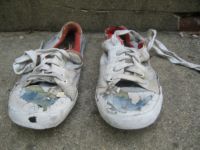 A few rules:
shoes must be worn into the office for your appointment
photo submissions are not allowed
any contestant with foul-smelling footwear will be disqualified – so please don't gross anyone out
Good luck everyone! Let's see what you can do to a pair of shoes!